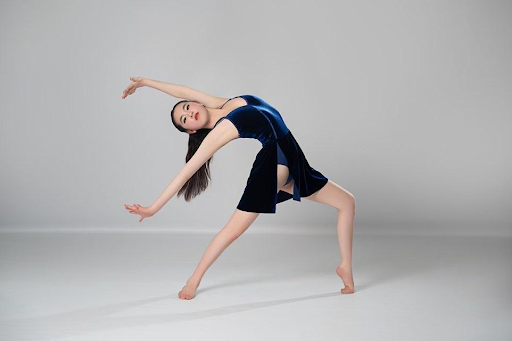 Elisa Zhang
"Being greeted with sore muscles and bruises means nothing compared to the priceless feeling of accomplishment after a dance competition"
Elisa Zhang: When you're a kid, it's your mom who forces you to go around and do all these activities. I think during the first few classes I cried, but that's besides the point – I was a little kid, I didn't have a say in things. Then, when I started making friends, I would talk a lot during class and be a nuisance, goofing off whenever I had a chance to. But over time, I realized that I really liked dance and wanted it to be my future, which is when I started trying and practicing a lot harder, inspired by dances I saw at competitions. And my dance teacher was really, really nice, and really encouraging. She would work with me a lot one-on-one and patiently explain moves to me. The emotional support (I was definitely scared and unsure at the time) as well as her confidence in me really meant a lot. I realized I really loved dance and competing – at my peak, I would do eight hours of class a week, and more outside of class too. 
My first competition was when I was just six, so I've been competing a long time. Honestly, at that time I wasn't really nervous, because I didn't realize how important placement in competitions was. It was purely for enjoyment, and it still is. I have a love-hate relation with competitions – I love being able to dance on stage and express my emotions through my movement, especially for lyrical dances, which have very meaningful lyrics. Being able to look the judges in the eye and show them my raw emotion while connecting with the audience is really powerful. The song really matters; we pick one that we like and are able to connect with personally. But competitions are super, super tiring – sometimes it's dance after dance after dance. It's a lot of work because you have to warm up all the time, and by the end, your back is tired, your legs are sore, and you just want to lay down and sleep. But you have to keep going, for your team, for yourself. And I power through, ignoring all sensations – sometimes all you feel is pain, but it's worth it. 
And you're never alone – we friends at dance grew up with each other, and we were always there for each other. During competitions, we're always supportive and cheer for each other, even when we're competing against one another. And my dance teacher – we've gotten so close over the years. When I first started dancing at her studio, she had just started teaching. She watched me grow up and I've watched the studio develop. I was one of her first students. She's like my second mom and I feel like I can talk to her about almost anything, and she helped me realize that it's important to take a break sometimes, and dance is the perfect way to do that. That's what dance is about for me: a way to balance myself from other things in my life. At dance, I don't have to think about school, or anything else. Dance taught me that there are things outside of school and that school isn't everything, grades aren't everything; it's worth it to do something you really love.