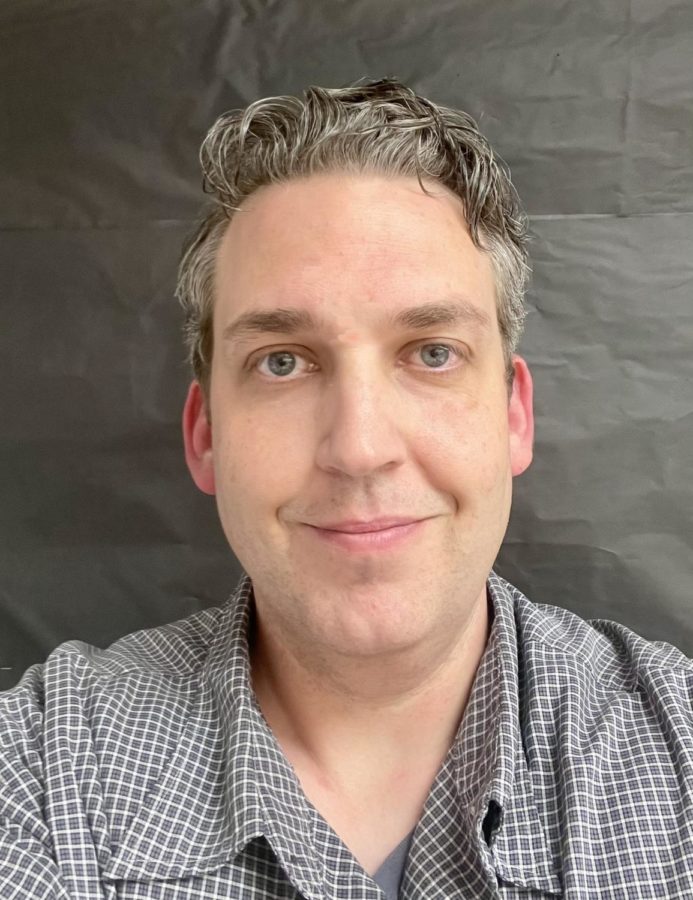 English and journalism teacher Mitch Bathke settles in a new role
The door to classroom 4102 opens. English 9, Journalism and Media Leadership and Publication teacher Mitch Bathke sits at his desk surrounded by llamas. 
Prior to teaching at Dougherty, Bathke taught seventh and eighth grade history at Canyon Middle School. As he constantly received llamas from students in his first year, his room now holds an abundant amount. Eventually, it continued as a "running joke" in his class. 
"They would start inserting llamas everywhere and then they gave me a llama at the end of the year. Then the next year, the class sees the llama and they're like, 'Oh, he likes llamas.' I start getting llamas … and then all of a sudden there's a flood of llamas in my room," Bathke said. 
While transitioning into a new environment, Bathke comes across a multitude of new experiences as he acclimates to teaching a new subject.  
"This is weird for me to not be a history teacher, but it's something I am adapting to pretty quickly. I realize it doesn't have to be history. It's not the subject that interests me as much as what I do every day," Bathke said.
Although teaching at a new school means adapting to a different curriculum and creating new lesson plans, some things remain constant.
"There are basic skills you learn as a teacher on how to manage a class, how to make a class more engaging and how to bond with your students… that is carried over and [has] really helped out," Bathke reflected. 
So far, he has enjoyed interacting with students and rediscovering his love for writing. 
Ever since Bathke was a kid, the reading and writing process brought him joy and it was always something he loved to do.  
"When I was … graduating college, it made sense to take that normal, natural joy and transfer it into something where I can teach … I am just taking the things I have always loved and doing it in the classroom," Bathke said. 
English has paved a way for Bathke to "be the storyteller", which brings him excitement in what he does everyday. 
"I just love telling a good story … It's a pure joy to be a part of the process, whether I am the audience or the storyteller. Sometimes as a teacher, you can flip between both in the middle of class." he said. 
Teaching a subject that he is passionate about makes Bathke's job even more rewarding. As he makes waves in his new role, he is reminded of his ninth grade biology teacher, who was a role model to him. 
"I always felt like he respected students, no matter what. Even when you're messing up, you felt like he was on your side… he just wanted to help you out. I think that's an important thing that teachers should have," Bathke said. 
Drawing inspiration from his high school teachers, Bathke hopes to inspire his students to constantly put in their best effort, while maintaining that mistakes are a part of the learning curve.
"You shouldn't get too down on yourself, or give up, or get frustrated, because it's just a part of the process. You're going to mess up at some point and that's okay. Everything's going to work out," Bathke said.
And while life has its ups and downs, Bathke feels that everything has worked out tremendously well for him, as well.
"This is an amazing school and the students I've had so far have been fantastic … The idea of staying here and teaching for a while is very exciting and fulfilling in ways that it feels like I arrived, like I won the prize. This is it right here," Bathke said.