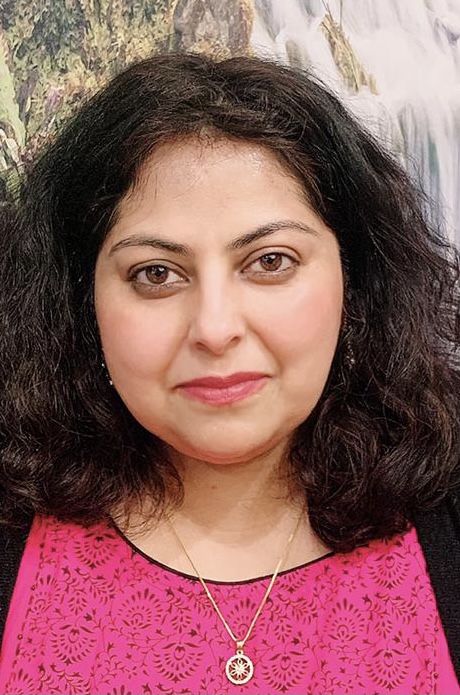 Honors Chemistry teacher Bhavna Gehlot settles down at DVHS following years of change
'Room 2207' the sign reads. Students file into the classroom as the second bell rings, while a few stranglers pick up the pace. A tray containing reference sheets sits on the counter at the front of the classroom and students congregate to pick them up before heading over to their seats. The low hum of excited chatter fills the classroom and two warm-up questions are already displayed on the whiteboard. 
For Bhavna Gehlot, this routine is one of few things that remains standard. There have been numerous changes over her past five years of teaching, but her excitement and passion for chemistry and the pharmaceutical industry is unchanging. After earning a biochemistry and chemical biology major from Stevens Institute of Technology, she began to explore her prospective career options.
"I started as a substitute in San Ramon and I liked being around kids. That's when I found out I wanted to be a teacher. I went back to school again and got my credentials – now here I am," Gehlot said.  
After teaching chemistry at Monte Vista High School and both chemistry and biology at a continuation school, Gehlot found her calling as an Honors Chemistry teacher at Dougherty Valley. Since she grew up in India and completed her education there, the U.S. education system was a massive change.
"We used to follow the annual system [in India]. Here, the big change is that we do everything step by step… everything is graded over the year. When I studied in India, your whole grade depended on just one final," Gehlot said.
However, moving has done little to deter her from her balance between work and hobbies. Aside from her fascination with the field of pharmacy, Gehlot has a deep appreciation for the arts. She enjoys painting in her spare time and finds it a "good takeaway." Further, she employs several tactics to keep a calm head through some of the ups and downs she experiences in her work life.
"I meditate regularly. That's my stress buster," Gehlot explained.
As she understands that her students may find their work-load much more stressful than she finds hers, Gehlot maintains that open communication is a must. 
"I try to do my best explaining whenever students come up with any questions in class. It's better to ask in class rather than go home and not know how to do [something]," Gehlot said.
Maya Ahuja, a student in Gehlot's Honors Chemistry class, appreciates her classroom policies and sentiment. 
"I feel much more confident knowing that I can email her or go to her for help whenever I need it," Ahuja said.
Along with her intent of being a support system for her students, Gehlot's goal for the year is to create interactive lessons and activities that engage her classes. She hopes to see them benefit from new methods of learning.
"I feel accomplished when students get this subject well and I see that look [of understanding] on their faces," Gehlot said.