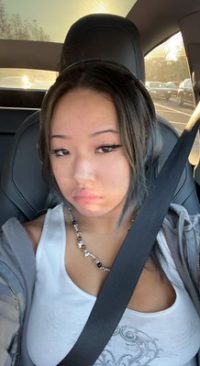 "The excitement of the last point and the whole team working hard to get the point back is always worth it at the end."
Christa Zhou: "I started getting into volleyball when I was younger, ironically through a video game that we had on the PS3. It was sort of like Wii sports but for the PS3 and it had beach volleyball on it. Volleyball just caught my eye at that moment and it is honestly what inspired me to play. 
My proudest accomplishment was being able to have seen consistency throughout my years playing volleyball. I know others may say when we won our first game but honestly for me it was seeing progress. The progress showed me that I can be a better player even though I have started off rough. 
My biggest setback was quarantine, since volleyball is very much a team sport it's harder to practice and become better when you're by yourself. I eventually got over that hurdle by searching up individual drills that I could do myself and it helped me a lot to go back into the next season.
The game keeps me motivated to still play. The excitement of the last point and the whole team working hard to get the point back is always worth it at the end."