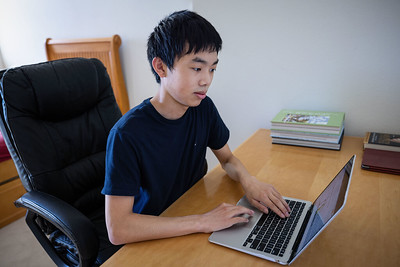 "I create videos that can teach the content of an entire school course in just a few hours."
Jesse Li: "I started teaching during COVID. Due to the school shutdowns, I started learning from other high school students by myself, like learning Java on Zoom. I was inspired by them, and the fact that COVID caused a major disruption in education, to teach by myself. So I first taught calculus on Zoom during the summer of 2020, and after that, from the summer of 2021 onwards, I've been teaching on YouTube because I wanted to be able to have a broader audience.
So far, I have taught AP Calculus AB, Java, AP Computer Science, and Physics (Mechanics) on YouTube. Currently, I'm creating AP Statistics, and in the future, I will continue to create math, science and computer science courses, at both high school and college level.
I give lectures on the topics and group them in a way that is efficient to learn. I make sure to list the most important ideas of each topic and I give step by step tutorials for some processes that might be difficult, such as how to perform hypothesis tests in statistics. Finally, I give practice problems so that viewers can practice those skills by themselves.
I feel like I have helped students who are struggling in their classes; some of my schoolmates have been struggling with certain courses and I've told them that they can watch my YouTube videos for help. I also want to allow students to prepare for AP exams in an efficient way. Some classmates have said that they were really helpful for preparing for the 2022 AP exams. Finally, I want to allow students to learn by themselves if they're interested in something new."