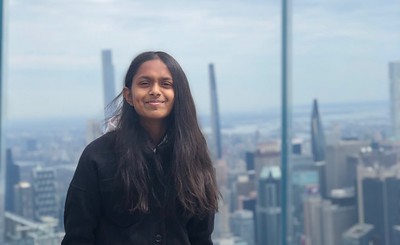 Trisha Rajganesh
"Whatever I'm thinking about that day just comes out in my design"
Trisha Rajganesh: I started getting interested in design by just building fun products on my own. I remember in seventh grade, I learned about what Tinkercad was, so I started building random things on the website. I remember the first thing I ever built with Tinkercad was an Airpods case, and from there, my passion expanded. I started going on Tinkercad every day in eighth grade, and I figured that I liked [designing things] and wanted to continue down this path. The design that I'm the proudest of is a free-flowing pencil case, where you can put your pencils in one area and erasers in another. Another thing I'm proud of is my solution to keep my whiteboard in place. I took initiative and designed the solution with 3D software, and then built it out of wood. And I'm very proud of that since I was able to take this idea and make it into a reality. I've also started to dabble in architecture, like drawing cool building designs that I would like to live in.
I focus on both utility and the quality of the design with my work. I think that design is a huge part of society since you can't live without good design. If you think about it, you're using hundreds of designs every day with all of the products we use. I also really like the creative aspect of design. I've never been the type of person to just write things down and do things by the book. And with design, you can just venture out and make your own things creatively without any restrictions. I just get to let my mind wander freely and use design to express what I'm thinking and feeling. 
I think design and engineering are really closely related. They may seem further apart than they really are, but you need engineering for design and vice versa. For example, if I were to design some kind of tower or bridge, I would need to know mechanical engineering and basic physics. I think you need to know engineering in order to make your structure functional. A while back, I participated in this camp where we coded drones and told them what to do. This was a really fun experience for me, since it was my first exposure to engineering. While that experience was on the computer science side, since then, I've definitely focused more on the mechanical aspects of product design. With many of the concepts I've brainstormed, I try to see how I can make them into a usable product, whether that be woodworking or using metal parts. I think it's much easier to improve a design and find its issues if you can feel the finished product with your hands.