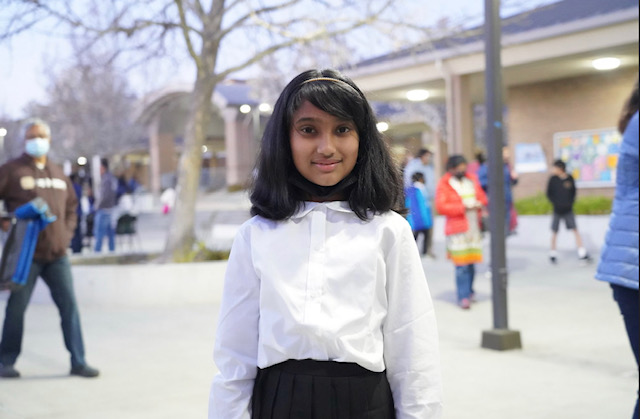 Sampada Choppalli
Bella Vista Elementary fifth-grader Sampada Choppalli played at the Area Band Festival for the first time with two other fifth-grade elementary school bands. The bands performed two pieces: "Cyberspace," a melodious instrumental track, and "Soar with the Dragons," a strong, upbeat song and also Choppalli's favorite of the two. 
Having played the flute for two years, Choppalli looked forward to this experience, and it certainly did not let her down. 
"I was feeling nervous, but mostly excited. I practiced a lot and I had a good time," she said. 
Choppalli began learning the flute in fourth grade, along with her Bella Vista Elementary School classmates. She explained her ultimate motive for taking on the musical journey is to be rooted in her culture. 
"I decided to choose [the flute] because an Indian God [Krishna] plays the flute and I really like him," Choppalli said. 
Though being of the youngest group of the Area Band Festival performers, Choppalli never had her dreams deterred. Her clear-cut goals for her future in music are strong and she looks forward to continuing her music journey in both middle and high school. 
"Watching the older kids perform and seeing that I might play [like] that someday was really [inspiring]," Choppalli said. "I'm looking forward to playing 'Despacito.'"