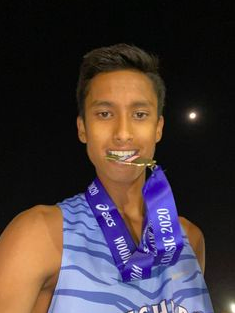 "I joined the DV Cross Country team… I was mentally focused and physically prepared."
Noor Mohammad Bin Tozul Ahmad: The first time I started cross country was in the middle of fourth grade. I met with a private coach and ran a mile. The time I got was 6:11. The coach said it was a really good time for my age, so I decided to pursue running. I've been training for four or five years after that. And then I joined the DV Cross Country team. When I tried out, I made it to the varsity team. 
It was hard getting on to varsity as a freshman, especially with my older brother trying out as well. He's as fast as me, but he didn't get on varsity. I was the seventh runner, and he was the eighth, so we had a little competition. I don't know what happened. He was a little off, I think. But, I had a good time, and I was just mentally focused and physically prepared. That's what got me into varsity.
Talent is a booster, but even if you don't have talent, you still have a chance, and it's worth it to try. I know many runners who are not very talented, but they do really well because they work hard and do everything in their power to become better athletes.
I train six days a week. Four practices are with my coach, coach Lauren, and they last like 90 minutes to two hours. It requires a lot of time management. I run after school, and right after that I go home and do my homework, so it's very scheduled.
I like that we go to different places, race against other schools, and have fun with our teammates. You get all the medals, so that's fun too.