Young youth movement on Voter's Choice Act
Hang on for a minute...we're trying to find some more stories you might like.
Jennifer Anthonow and Jean Lythcott spoke to young journalists at the JEA NorCal Conference on Sept. 29 about the Voter's Choice Act and to spread awareness of the necessity of voting.
Anthonow and Lythcott are members of Legal Women Voters, which was founded 100 years after the 19 Amendment was passed in order to spread democracy and allow speedy voting. In 2016, the Voters Choice Act was regulated in California, with the mission of getting more people to vote.
"Imagine being a mom who has just come from work, with 2 hungry kids to feed and realizing she has to vote," Lythcott expressed. "The voting place closes at 6:00. By the time you rush it is going to be 5:50 and you will be standing in a long line hungry and miserable — the chances of you voting is very unlikely."
The objective of the act is to make voting more convenient and accessible by having more ways and days to vote. There are three implementations of this law: voting by mail, a ballot drop box and voting centers, which would be in grocery stores and other convenient places voting is less of a hassle.
"One of the best things about the Voters Choice Act would be the flexibility the voter would feel," Anthonow stated. "Most voting centers can be open eleven days before the election, allowing families two whole weekends to go out and vote. It is important to show America having a strong democracy and if more people vote it will show the accurate representation of America."
In 2018, five California counties had taken the act into place — San Mateo, Napa, Sacramento, Nevada and Madera. According to CNN, the increase in voting had risen by three percent, especially seeing an increase in Latino, youth and Asian turnout.
"This is exactly what we want," beamed Lythcott. "Being an eighty year old woman, it brings joy to my eyes to see the younger three generations voting and taking a role in politics. I have never seen this before"
By 2020, ten more counties will be adopting the act, totaling over half of California . All counties of California are obligated to join by 2022; however, when they join until then is up to their discretion.
"The counties remaining will join the act of bringing the whole California united in making voting a substantial priority" Lythcott said.
"It's crazy how we have something in America which other people do not have, and we do not use it. Of the American citizens only 40 to 50 percent of people actually vote," Lythcott expressed.
In 2016, ballots gave voters the option to move the primary election from June to March in order to choose the final candidate in our election. The next primary will take place on March 3, 2020.
"The reason why many people said yes is because it would lead the California residents to join Super Tuesday with the rest of the country, to decide who will win the election. Last time, California did not even get a chance to display their view," Lythcott stated.
Many questions were brought upon after the discussion, such double voting and the progress the Voters Act could actually make.
"All in all we need to turn the voting on you folks, the new generation which will lead our country," Lythcott exclaimed. "It is your job right now to bring information to others and to and to spread the word about the act. It will bring an amazing change to California and I can feel it."

About the Writer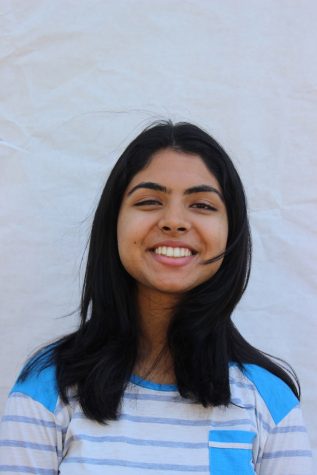 Shereen Ahmed, Staff Writer
Shereen joined the Tribune to voice her opinion about concerning and relevant topics. This is going to be Shereen's second year with the Wildcat Tribune. This is one of Shereen's favorite classes and everyone...